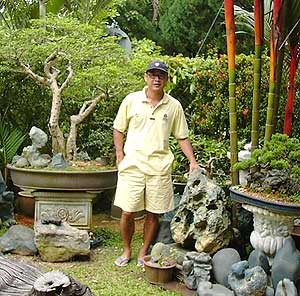 About Daniel Yow:
I am a Malaysian Chinese born in 1959 and I am from Kuala Lumpur. I operate an eco-resort in tge rainforest, East Coast of Malaysia. I have been in the eco-tourism business for the past 15 years. Living and breathing with nature and it is only natural for me being involved in Suiseki and Bonsai as a hobby.

Collecting Suiseki as nature's art give me alot of pleasure and satisfaction. I brought nature back to my home and to share my Malaysian Suiseki to the Suiseki World.

Malaysia is a country blessed with a nature paradise. It is one of the oldest tropical rainforest in the world. Seventy percent of the land is covered by the forest so it is blessed with wonderful flora, fauna, rivers, waterfall and natural wildlife habitats.

All my Suiseki collections are natural black riverstone collected in the past 10 years in the river of Malaysia.