Dear Friends,
Since the naming of my daughter in 1996, Fiona Jade, my world has been opened to the appreciation of Oriental Jade carvings.
With the subsequent acquisition of a large acreage in Trinity County California, we've been given access to stones of varying content, composition and variety. Winter water-currents of the Eel River have shaped, tumbled and formed some of the most promising possibilities for our world of Suiseki.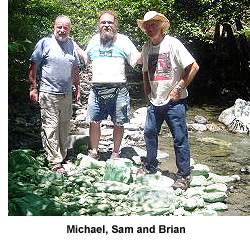 With help from friends, grace from our guiding spirit, imagination and mostly, in my case, LUCK, an art form Suiseki has blessed my soul.
The goal of Suiseki.com is to give back and to gather and distribute information, to give like-minded people a forum and place to display suiseki stones and diazas, a site for exchange and to those interested, a format of discovery, discussion, sharing and friendship.
So let's join in, help each other and have fun.
Always all the best,
Michael