---
Collecting Viewing Stones | Photos | Where to Collect | Tools & Gear | Clothing
---
View our newest collecting photos!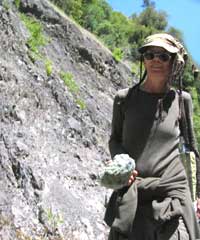 Aah, the love of the hunt. Viewing stones can be collected any time and anywhere a stone appears -- whether specifically hunting for specimens -- or unexpectedly, during an unrelated outing. How many times have we found a special stone that seemed to us like a rare treasure. Fascinated, we study every detail - shape, color and texture. Then we take it home and put on the dresser or a special shelf - displaying it's beauty and reminding us of a special day. Perhaps we have all been viewing stone collectors longer than we realize!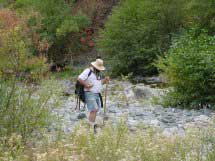 For those interested in learning more about the Art of viewing stones, there are simple skills and techniques that can be easily adopted to enhance enjoyment and find prized viewing stones specimens: location scouting, learning about river patterns & speed, geographic locations, tools and gear, clothing tips and so much more.
When every precaution is taken, and planning is at its best, your only problem will be the frustration of "which stones to choose," since you'll undoubtedly have a multitude of specimens before you. What's important is to develop a vision - with your eyes, your spirit and your emotion. And bring home your treasures after a long, hard, wonderful adventure - and the love of the hunt.
NOTE: In the spirit of honor, stone collectors are urged to use utmost courtesy and never trespass on others' property. Always ask landowners' permission to enter their land. Remember that landowners also honor their stones.
---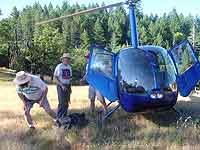 Collecting Viewing Stones - Our Photo Album
View our collection of photos from collecting trips in Northern California, as well as photos from some of our friends. Please contact us at Your Pages on suiseki.com if you have photos of your collecting trips you think would be of interest to our viewers.
read more
---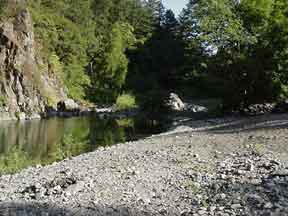 Where To Collect Viewing Stones
Viewing Stones can be collected nearly everywhere: shorelines, and river beds, mountains, fields, valleys, and the list goes on. Some of the best viewing stones can be found under various natural conditions ... read more


---

Tools & Gear for Collecting
All tools should be in good condition with firm grips and sharp edges, such as high-quality steel pick and hammer, 10- to 12-inch chisel, small shovel, good work gloves... read more


---


Proper Clothing for Collecting Viewing Stones
Proper clothing is an important consideration for long and/or overnight collecting trips. read more



---

Sitemap | Search This Site
Home | Contact Us | Sign Our Guest Book | Your Pages on Suiseki.com | About Suiseki.com
All About Suiseki | History | Classifications | Glossary | Collecting | Evaluating | Classifying | Preparing | Aesthetics
Displays | Rocks | Bonsai & Suiseki | Gallery | Collectors | Links | Miscellaneous

© Suiseki.com / ~ The Art of Stone Appreciation
P.O. Box 84, Albion, CA 95410 (707) 937-4715
E Mail: Mike@Suiseki.com &nbsp Technical Comments: mbouquin@mcn.org