---
Collecting Viewing Stones | Photos | Where to Collect | Tools & Gear | Clothing
---
(NOTE: In the spirit of honor, stone collectors are urged to use utmost courtesy and never trespass on private
property. Always ask landowners' permission to enter their land. Remember that landowners also honor their stones.)
Where To Collect Viewing Stones
Viewing stones can be collected nearly everywhere: shorelines, and river beds, mountains, fields, valleys, and the list goes on. Some of the best stones can be found under these natural conditions: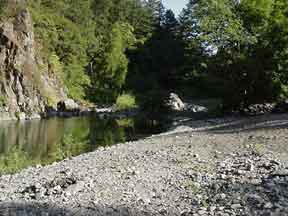 where erosion is most intense
very high winds
continuously blowing sand
deep ravines
mid-sections of fast-moving mountain creeks
banks and in the water of fast-moving mountain creeks
powerful torrents of water
Consider some of these locations where stones are often found:
California Mojave Desert yields fine Object and Distant mountain stones
Flower-pattern stones found on the British Columbia coastline
Waterfall, Waterpool, Island, Object stones and Thatched-hut found in Canada and the Northeast US
Rivers and creeks of the Appalachians, Rockies, Sierras, and Cascades have yielded elegant Mountain stones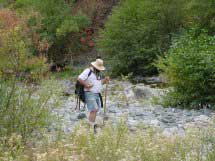 Once you have arrived at a spot where you wish to search for stones, you might scout the whole area and assess the landscape and potential before beginning. You could then mark the spots where you find your stones with colorful tags or perhaps a pile of stones. When removing your stones, possibly toward the end of your outing, an important safety practice is to fill any holes created. This is also a good ecological practice and shows respect and gratitude for nature's gifts.
Stones found in the upper areas of rivers and creeks are often too jagged - and stones from lower sections are too round or flat, as with beach stones. Take note: Use caution when collecting and avoid isolated areas. Most collectors do not travel alone. While groups tend to spread out at a location, they are ideally in contact by voice at all times.
---

Sitemap | Search This Site
Home | Contact Us | Sign Our Guest Book | Your Pages on Suiseki.com | About Suiseki.com
All About Suiseki | History | Classifications | Glossary | Collecting | Evaluating | Classifying | Preparing | Aesthetics
Displays | Rocks | Bonsai & Suiseki | Gallery | Collectors | Links | Miscellaneous

© Suiseki.com / ~ The Art of Stone Appreciation
P.O. Box 84, Albion, CA 95410 (707) 937-4715
E Mail: Mike@Suiseki.com &nbsp Technical Comments: mbouquin@mcn.org