---
Collecting Viewing Stones | Photos | Where to Collect | Tools & Gear | Clothing
---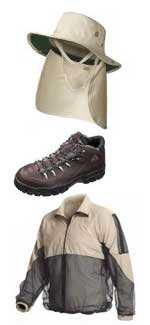 Clothing: Proper clothing is an important consideration for long and/or overnight collecting trips.
Dress for climate: Since mountain and desert weather can change rapidly, be sure your clothing is suited to the climate where you will be collecting, and can withstand rough wear.
Layering: Layering clothing is a wise practice because clothing can be removed when temperatures rise, and added when the temperature cools: try undershirt, shirt, sweater, and light jacket
Loose-fit: For protecting the legs from poison ivy, thorns, insects, and scrapes, wear loose pants --denim, canvas, or cotton. Shorts are NOT advised!
Hats: A wide-brimmed hat gives protection from the sun and holds body heat for warmth.
Boots: Quality waterproof boots are important for long or rugged trips, with non-slip soles for traction; rubber boots are invaluable when it's necessary to walk through water
The Love of the Hunt
When every precaution is taken, and planning is at its best, your only problem will be the frustration of "which stones to choose," since you'll undoubtedly have a multitude of specimens before you. What's important is to develop a vision - with your eyes, your spirit and your emotion. And bring home your treasures after a long, hard, wonderful adventure - and the love of the hunt.




---

Sitemap | Search This Site
Home | Contact Us | Sign Our Guest Book | Your Pages on Suiseki.com | About Suiseki.com
All About Suiseki | History | Classifications | Glossary | Collecting | Evaluating | Classifying | Preparing | Aesthetics
Displays | Rocks | Bonsai & Suiseki | Gallery | Collectors | Links | Miscellaneous

© Suiseki.com / ~ The Art of Stone Appreciation
P.O. Box 84, Albion, CA 95410 (707) 937-4715
E Mail: Mike@Suiseki.com &nbsp Technical Comments: mbouquin@mcn.org